When it comes to cleaning the various parts of your house, wise choices include excellent time management and the use of efficient tools. The cleaning instruments you use must quicken the cleaning procedure and produce satisfactory cleaning outcomes. For example, while washing sticky and unclean surfaces, you may prefer to use electric spin scrubbers rather than scrubbing them by hand.
Spin scrubbers are available in various forms and sizes to suit various cleaning purposes. Some spin scrubbers must be plugged in directly to a power source, while others are rechargeable.
There are a few crucial electrical safety precautions to keep in mind regarding rechargeable spin scrubbers.
If the spin scrubber runs out of power, you merely need to recharge it.
If the protective charging cover is missing, you must not use the rechargeable spin scrubber.
You can clean the spin scrubber with a mild detergent.
Specific spin scrubbers may be dried by separating their components.
Tilswall recently launched M3 electric brush, which smoothly works like an electric spin scrubber. It has a fast charge option that will help you use it seamlessly without a second thought. If you have previously used an M1 electric spin scrubber, you can feel the difference between the two brushes. However, below we have listed the differences.
M1 electric spin scrubber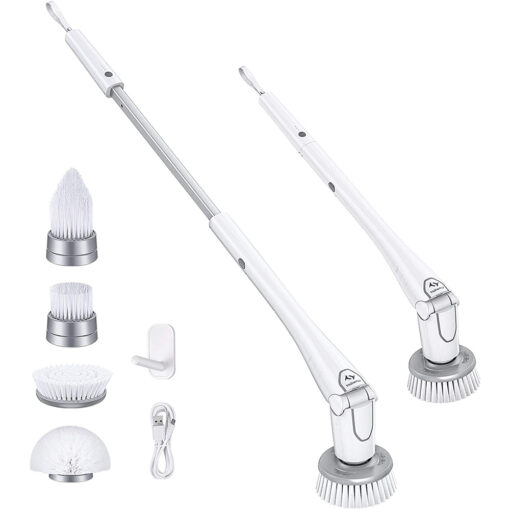 Your most exemplary cleaning assistant is the Tilswall M1 electric spin scrubber. It's rechargeable and can last up to three hours. It quickly and simply eliminates dirt from floors, kitchen walls, tiles, and bathrooms.
The Tilswall electric spin scrubber replaces traditional manual cleaning. You can effortlessly clean your entire house in one fell swoop thanks to the powerful 3.7V 4000mah rechargeable battery, which boosts speed up to 300RPM and torque up to 35.4 Kgf. cm. The maximum working duration is 180 minutes. For convenient storage, an extra hook-up is supplied.
You can change the length of the handle at any time by pressing the release button on the side of the power cleaning brush. Its range is from 68cm to 100cm.
The electric spin scrubber is suitable for Tub tile, floor, glass window, car, door, and other surfaces.
You should use detergent, cleaner, or soak before cleaning to optimize the cleaning effect.
Long battery life. 
Four brush heads for different usage. 
Stepless adjustable angle.
M3 electric spin scrubber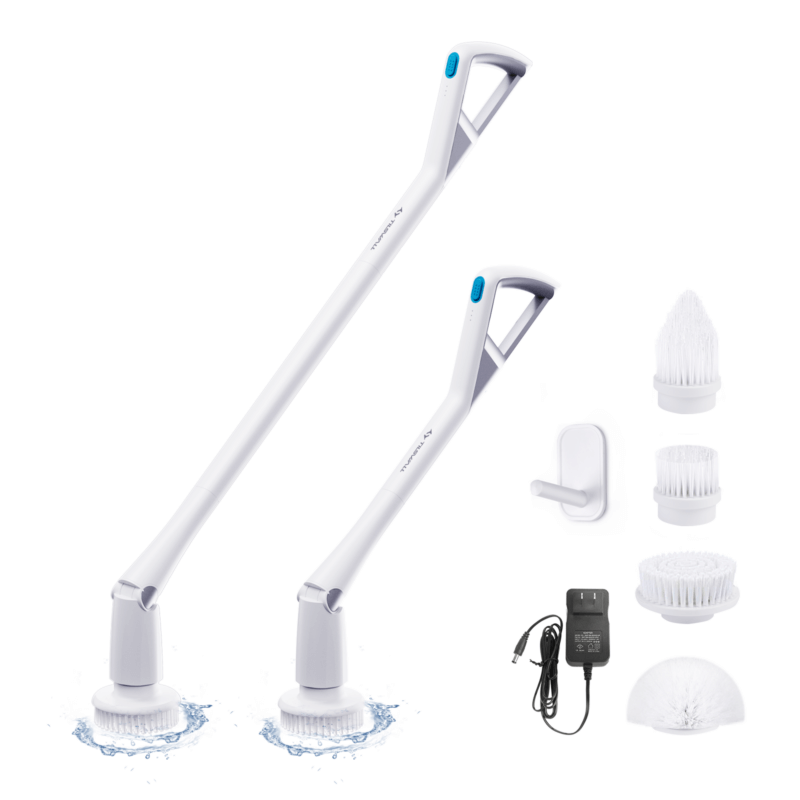 Now, let's look at the features of newly launched Tilswall M3 electric spin scrubbers.
It saves you time and makes housecleaning more efficient with fast-charging technology.
It has two gears, including the lower gear, facilitating the removal of tough stains, while the higher gear improves efficiency.
Even when your hands are sweaty, the D-shaped handle helps you grip the handle securely.
It has an extendable handle range of 66 cm-104 cm for easy cleaning of various heights.
Adjustable head (28°/57°/84°): you may pick the best angle for cleaning depending on where you want to clean.
It has multiple brushes, including flat, small, and pointy brushes.
The Differences Between Tilswall M1 and M3
| | |
| --- | --- |
| M1 electric spin scrubber | M3 electric spin scrubber |
| Moderate cleaning power | Four times more cleaning power than M1. |
| No fast-charging facility | Fast charging facility |
| Adjustable long extension handles | D-shape handles to hold the scrubber firmly. |
| Don't have adjustable gears. | It has adjustable gears. |
| 3-4 hours for the complete charge. | One hour to complete the charge. |
FAQs
What is the material of this product?
The product is made of sturdy and durable Polypropylene.
For what purpose can it be used?
It can be used for cleaning kitchen countertops, tiles, windows, bathtubs, and more.
Does the product run on power?
Yes, it runs on battery power, and therefore, you have to charge the product as per your usage requirement.
Is the product waterproof?
Yes, the product is waterproof.